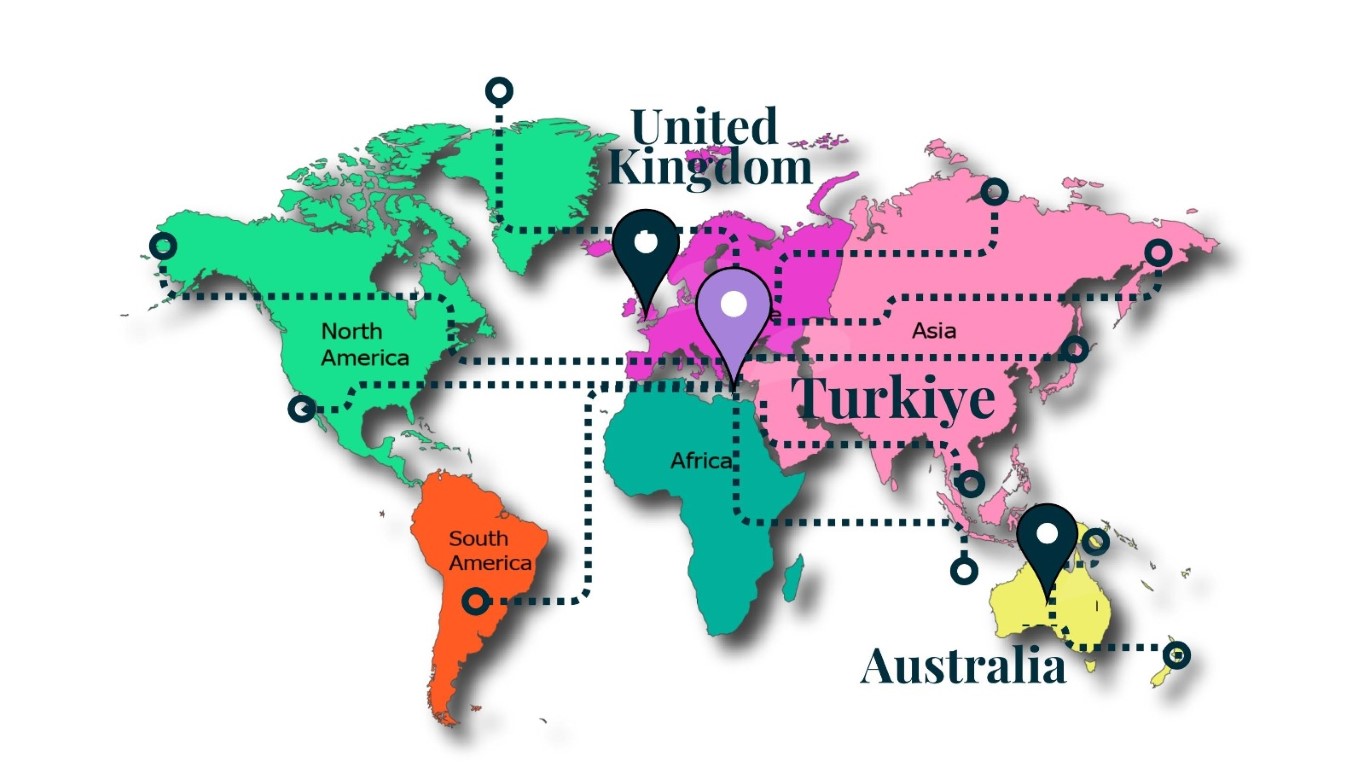 interkidsy is a marketing technology company founded in 2021 in Bursa, Turkiye. We are serving to 60+ brands and 3000+ stockists worldwide from our Bursa, London, and Brisbane offices.
A Guide to Importing Babywear and Kidswear from Turkiye: Leveraging Free Trade Agreements for Zero Import Duties
Turkiye has a robust and dynamic textile industry known for its exceptional craftsmanship and high-quality products. Our manufacturer members located in Turkiye offer a wide range of babywear and kidswear options, including clothing, accessories, footwear, and more. Additionally, Turkiye's favorable geographical location makes it a convenient hub for trade between Europe, Asia, and the Middle East.
Leveraging Free Trade Agreements:
One of the key advantages of importing babywear and kidswear from Turkiye is the existence of several free trade agreements (FTAs) between Turkiye and various countries worldwide. These agreements facilitate trade by reducing or eliminating import tariffs and duties, enabling importers to access products at competitive prices. Let's explore some of Turkiye's notable FTAs and how they can benefit importers of children's clothing.
Customs Union with the European Union (EU): This agreement grants importers from EU member states significant advantages, including zero import duties on babywear and kidswear originating from Turkiye.
Free Trade Agreement with EFTA Countries: Turkiye has a free trade agreement with the European Free Trade Association (EFTA), which includes Switzerland, Norway, Iceland, and Liechtenstein. Under this agreement, importers from EFTA countries can import babywear and kidswear from Turkiye with zero import duties, providing a competitive edge in their respective markets.
Free Trade Agreements with Other Countries: In addition to the EU and EFTA, Turkiye has signed several bilateral and multilateral FTAs with countries such as South Korea, Morocco, Tunisia, Israel, and more. Importers from these countries can benefit from reduced or eliminated import duties on babywear and kidswear imported from Turkiye.
Zero Import Duty in the UK: Our customers in the UK pays no import duties thanks to interkidsy UK. Our UK office supplies all stocks to our stockists in the UK and Northern Ireland domestically.
Zeo Import Duty in Australia & New Zealand: Australian and New Zealander customers pay no import duties on their orders because all transcations are carried over our interkidsy AU branch in Brisbane.
Import Process and Considerations:
Our high skilled team will guide you for your import operations if you need. Still, it is good to be prepared about the process steps in advance. Importing wholesale babywear and kidswear from Turkiye involves a series of steps and considerations. Here are some key points to keep in mind:
Customs and Documentation: Familiarize yourself with the customs requirements of your importing country. Ensure you have the necessary documentation, such as invoices, packing lists, certificates of origin, and compliance documents, to facilitate a smooth customs clearance process. We will be providing you all custom documentation you will need.
Logistics and Shipping: Partner with a reliable freight forwarder experienced in international shipping to handle the logistics and transportation of your imported goods. They will assist you in optimizing shipping routes, customs procedures, and necessary documentation.
Compliance with Safety Regulations: Babywear and kidswear are subject to stringent safety regulations in many countries. Ensure that the products you import from Turkiye comply with relevant safety standards and
Importing babywear and kidswear from Turkiye can be a lucrative venture for businesses worldwide. Leveraging Turkiye's free trade agreements, particularly the customs union with the EU and the FTA with EFTA countries, provides importers with a significant advantage of zero import duties.